Magpul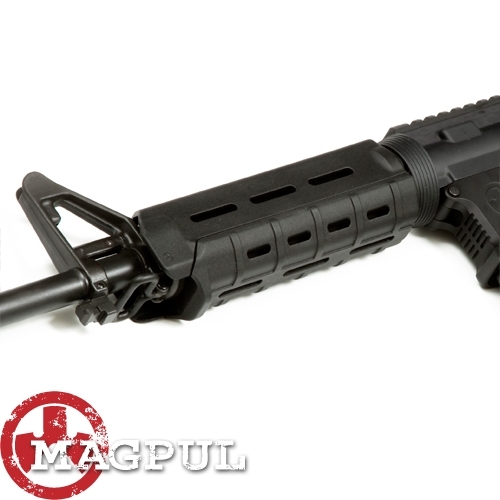 Explore the world of Magpul, a brand that redefines firearm accessories with innovation, functionality, and reliability at its core. This brand is synonymous with excellence, delivering a comprehensive range of accessories that enhance your shooting experience, elevate performance, and stand the test of time.
About Magpul:
It stands as a beacon of ingenuity in the firearms industry. With a relentless pursuit of excellence, our products are designed to meet the needs of shooters who demand superior quality and performance. From ergonomics to durability, every aspect of Magpul's offerings is crafted to exceed expectations.
Key Features:
1. Innovative Design: Magpul products are a fusion of cutting-edge design and functionality. Our team of designers and engineers are pioneers, introducing features that enhance usability, comfort, and overall firearm performance.
2. Unmatched Functionality: With an acute understanding of shooters' needs, Magpul creates accessories that seamlessly integrate into your firearm setup. From stocks and grips to magazines and sights, every product is designed to augment your shooting capabilities.
3. Quality Assurance: At Magpul, quality is paramount. We use the highest-grade materials and adhere to rigorous manufacturing processes to ensure our accessories endure the rigors of real-world use.
4. Customization Possibilities: Magpul empowers shooters to personalize their firearms with a range of accessories that cater to various styles and preferences. From tactical enhancements to aesthetic upgrades, the possibilities are endless.
5. Trusted Reliability: Professionals and enthusiasts alike trust Magpul for its proven reliability. Our products have earned the respect of law enforcement, military personnel, and competitive shooters who rely on their equipment to perform flawlessly.
6. Comprehensive Selection: From stocks and handguards to magazines and rail covers, Magpul offers an extensive selection of accessories that cater to a wide spectrum of firearms and shooting disciplines.
Experience the Magpul difference—a brand that has redefined firearm accessories for shooters worldwide. Join the ranks of those who demand innovation, functionality, and uncompromising quality. Elevate your shooting experience with Magpul and discover a new level of excellence in firearm accessories.
Showing 1–16 of 96 results
Step into the world of Magpul, where firearm accessories are transformed into precision tools that amplify your shooting journey. With a dedication to pushing boundaries and elevating performance, Magpul offers a diverse array of accessories that are designed to meet the demands of both casual enthusiasts and seasoned professionals.
About Magpul:
Magpul stands as a trailblazer in the realm of firearm accessories, driven by a relentless pursuit of perfection. Our commitment to innovation is evident in every product, where form and function unite to create accessories that redefine firearm enhancement.
Key Features:
1. Thoughtful Engineering: Magpul products are a result of meticulous engineering. Our team obsesses over the details, creating accessories that not only enhance firearm aesthetics but also improve usability and ergonomics.
2. Seamless Integration: Magpul accessories seamlessly integrate with a wide range of firearms, enhancing their capabilities without compromise. From streamlined stocks to versatile handguards, each accessory is designed to complement your firearm's performance.
3. Durability Redefined: At Magpul, durability is a hallmark. Our accessories are crafted from robust materials, built to withstand the rigors of demanding shooting environments and delivering lasting performance.
4. Express Your Style: With a plethora of customization options, Magpul empowers you to personalize your firearm to reflect your unique style. Explore a variety of accessories that allow you to fine-tune your setup to perfection.
5. Proven Performance: Magpul accessories have earned the trust of professionals and enthusiasts alike. Whether you're in law enforcement, the military, or a competitive shooter, Magpul is the brand of choice for reliable and dependable accessories.
6. Extensive Range: From innovative magazine designs to advanced sights and optics, Magpul offers a comprehensive range of accessories that cater to different shooting disciplines and preferences.
Embark on a journey of enhanced performance and customization with Magpul—a brand that sets the standard for firearm accessories. Join the ranks of those who demand more from their gear and experience the transformational impact of Magpul. Elevate your firearms to new heights of excellence and explore the art of firearm enhancement with Magpul.