Glock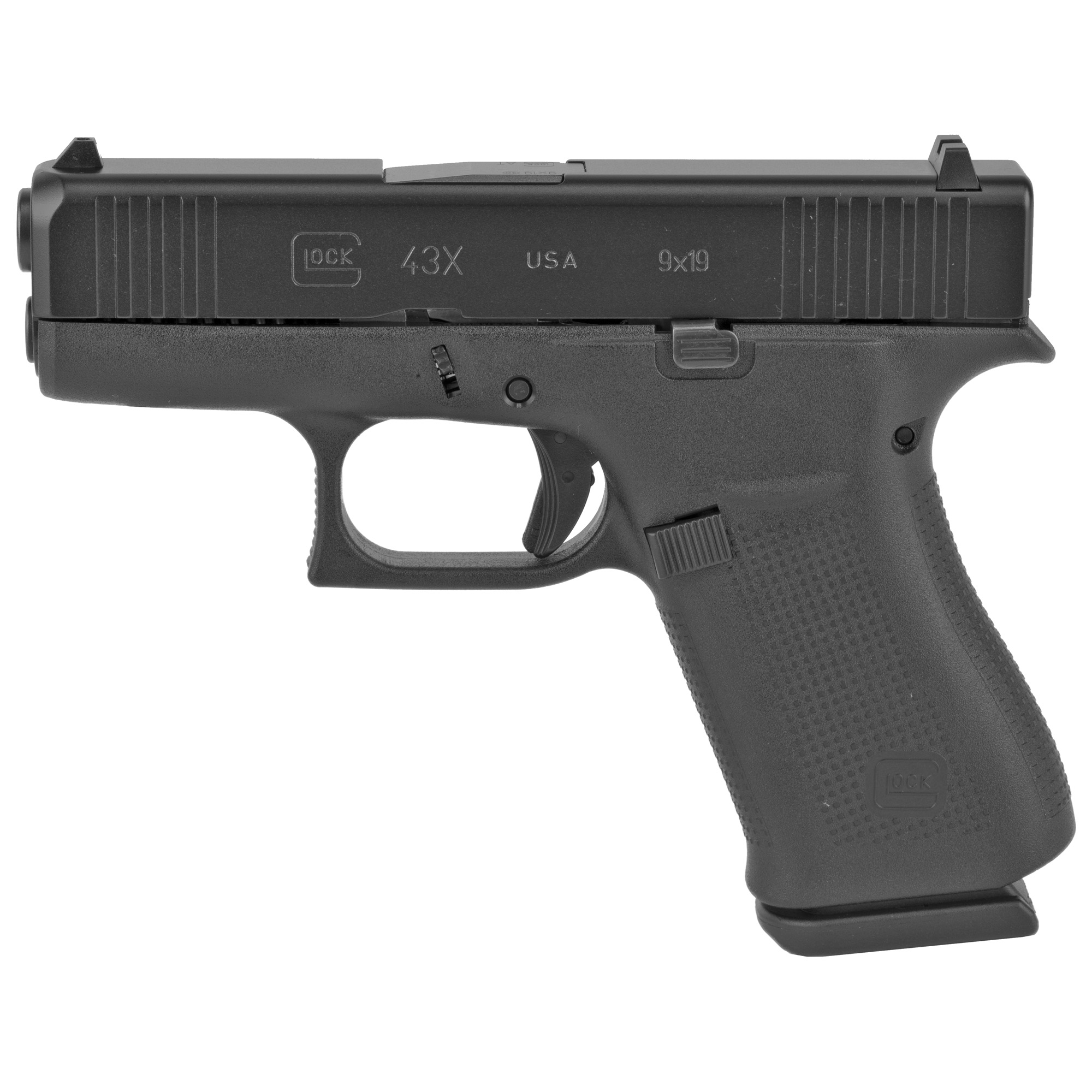 Step into the world of Glock firearms—a legacy of reliability, innovation, and iconic design that has redefined the standards of handgun performance. Explore our comprehensive range of  pistols, each meticulously crafted to empower shooters with unparalleled accuracy, durability, and confidence.
About Glock Firearms:
This brand stands as a symbol of excellence in the firearms industry, known for its pioneering spirit and commitment to innovation. With a history rooted in precision engineering, pistols have earned the trust of law enforcement, military personnel, and civilians around the globe.
Key Features:
1. Striker-Fired Perfection: These pistols are renowned for their striker-fired mechanism, delivering consistent trigger pulls and quick follow-up shots. This design contributes to the company's reputation for accuracy and reliability.
2. Modular Excellence: Modular design allows shooters to tailor their firearms to their preferences. From customizable grip sizes to accessory compatibility, Glock pistols provide a personalized shooting experience.
3. Superior Ergonomics: Glock's ergonomic design ensures comfortable handling and a natural point of aim. Shooters of all skill levels can enjoy enhanced control and reduced recoil for improved accuracy.
4. Robust Construction: Glock pistols are built to withstand the rigors of demanding use. High-quality materials, precision manufacturing, and rigorous testing contribute to their reputation for longevity and durability.
5. Wide Selection: Explore our extensive range of Glock pistols, encompassing various sizes, calibers, and configurations. Whether for concealed carry, target shooting, or duty use, there's a Glock pistol to match your needs.
6. Trusted Reliability: Glock's commitment to quality is unwavering. With a reputation for functioning flawlessly even in adverse conditions, Glock pistols are a dependable choice for self-defense and professional use.
Experience the legacy of Glock—a brand that continues to set the benchmark for handgun performance. Choose a firearm that embodies reliability, innovation, and proven excellence. Whether you're a law enforcement officer, a competitive shooter, or a responsible civilian, these pistols empower you to face any situation with confidence. Discover the Glock difference—where precision meets perfection.
Showing all 13 results
Unlock the full potential of your Glock firearm with our extensive range of Glock accessories—a comprehensive collection designed to enhance your shooting experience, personalize your firearm, and elevate your performance to new heights. From magazines to sights and more, these accessories are engineered to complement your Glock pistol's capabilities.
About Glock Accessories:
Glock's commitment to excellence extends beyond pistols, encompassing a diverse array of accessories tailored to meet the unique needs of shooters. Our accessories are crafted with the same precision and attention to detail that define Glock firearms, ensuring seamless integration and reliable performance.
Key Features:
1. Premium Magazines: Explore Glock's magazines—engineered for optimal reliability, capacity, and ease of use. From standard to extended options, our magazines are designed to ensure consistent feeding and effortless reloading.
2. Precision Sights: Elevate your accuracy with Glock's precision sights. Choose from a variety of sights, including night sights and adjustable options, to achieve quicker target acquisition and improved accuracy.
3. Holsters and Carry Solutions: Glock accessories include a range of holsters and carry solutions designed for concealed carry, duty use, and competition. Find the perfect fit to ensure secure retention and comfortable carry.
4. Grip Enhancements: Customize the grip of your Glock pistol with various grip enhancements, including backstraps and grip tape. Achieve optimal comfort and control for improved shooting performance.
5. Extended Controls: Enhance your Glock's usability with extended controls such as slide stops and magazine releases. These accessories contribute to smoother reloads and faster manipulations.
6. Performance Upgrades: Discover performance-enhancing accessories like trigger upgrades and recoil springs that can refine your Glock's trigger pull and shooting dynamics.
7. Maintenance and Care: Keep your Glock firearm in peak condition with cleaning kits, lubricants, and maintenance tools designed to ensure reliable operation and longevity.
Elevate your Glock experience with accessories designed to optimize performance and cater to your preferences. Whether you're looking to improve accuracy, enhance comfort, or customize your firearm's functionality, Glock accessories offer a world of possibilities. Embrace the power of customization and explore Glock's diverse range of accessories—a testament to Glock's commitment to excellence beyond the firearm itself.