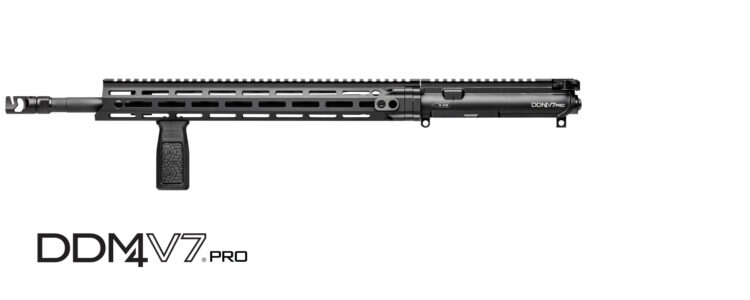 Daniel Defense V7 Pro URG (Complete Upper)
SHARE THIS
Product Description
The Daniel Defense V7 Pro URG (Complete Upper) was designed for competitors looking for a platform to dominate podiums in today's popular multi-gun matches. Built around our newest 18" Strength to Weight, Cold Hammer Forged barrel, this platform delivers the speed, controllability, and precision required to engage the most difficult multi-gun stages. The V7 Pro Upper Receiver Group comes standard with the new MFR 15.0 M-LOK® rail, which offers incredible weight savings as well as superior cooling, ergonomics, and modularity while maintaining the strength and durability expected from Daniel Defense. An uninterrupted Picatinny rail on top and M-LOK attachment points ensure plenty of real estate for optics and accessories and allow for the maximum sight radius for accurate shooting with rail mounted iron sights. The long 15" rail gives operators the option to have the support hand extended out closer to the muzzle, allowing them to drive the gun more precisely, and it prevents over-travel when transitioning between multiple targets. Competitors will also appreciate the larger latch provided by a Vltor Gunfighter Mod 4 Charging Handle for easier manipulation under magnified optics. The newly designed Muzzle Climb Mitigator redirects propellant gasses through calibrated ports, countering both recoil and muzzle climb.  This is the 18″ version of the Daniel Defense V7 URG.
MATERIALS & CONSTRUCTION
UPPER RECEIVER: Mil-Spec with Indexing Marks and M4 Feed Ramps. CNC Machined of 7075-T6 Aluminum, Type III Hard Coat Anodized
BARREL: Chrome Moly Vanadium Steel, Cold Hammer Forged, 1:7 Twist, 18″ S2W Profile, Chrome Lined, Mil-Spec Heavy Phosphate Coated, and HP/MPI Tested
GAS SYSTEM: Pinned Low Profile Gas Block CNC Machined of 4140 Hardened Steel and Mil-Spec Heavy Phosphate Coating, Rifle Length, Direct Impingement
MUZZLE DEVICE: Daniel Defense Muzzle Climb Mitigator, Gen II, 17-4 PH Stainless Steel, Salt Bath Nitride Finished
BOLT CARRIER GROUP: M16 Profile, Mil-Spec MP Tested, Chrome Lined, Properly Staked Gas Key
SIGHTS: Sold Separately
HANDGUARD: Daniel Defense MFR 15.0, CNC Machined of 6061-T6 Aluminum, Type III Hard Coat Anodized
GRIP: Daniel Defense Vertical Grip, Glass-Filled Polymer, M-LOK
Made in the USA!
All Daniel Defense products carry a 100% satisfaction guarantee against defects in original materials and workmanship. If your Daniel Defense product shows evidence of such defects, Daniel Defense will make every accommodation to fix, repair, or replace your product in the most expeditious manner possible. Daniel Defense does not warranty products or damage caused to our products by the correct or incorrect installation of other manufacturer's products. Be sure to retain your sales slip as proof of purchase date when making a claim.
Only logged in customers who have purchased this product may leave a review.